Mabuhay Everyone!
*UPDATES of CURRENT EVENTS(RED)*
Prisoners Donate Hair to Fight Oil Spill
Prisoners here are shaving and donating their head and chest hairs to help clean up the country's worst oil spill which affected over 40,000 people and 200km of coastline.
Small things/donations really makes a difference.
Davao cagers to watch not 1, but 2 NBA games
You probably did not hear about this. But four Davao City basketball players were invited to watch not just one but TWO Houston Rockets game, by NBA star Tracy McGrady.
The four players are, Nard John Pinto, Ronnierick Wong, Kristoffer Lloyd Lacida and Vincent Lim of the Holy Child School of Davao. Holy Child placed second behind China with just ONE POINT in the Asian Streetball finals held recently in Guangzhou, China but they were awarded a US trip by McGrady because of their "excellent showing".
Mayor Duterte to Holy Child cagers: "Stay healthy"
CONGRATULATIONS GUYS! (it is a dream come true for them! Be "excellent" in everything!)
Pinoy Astronomer discovered the Red Spot Junior
Christopher Go of Cebu a Physics graduate of the University of San Carlos and an observer of Jupiter, discovered that the brown spot on the planet, which was previously white in color, had turned brick red.
His observation, which was then reported to the Jupiter Section of the Association of Lunar and Planetary Observers, has sparked renewed interest in the planet Jupiter.
*A SPLASH OF GREEN*


Filipinos For Better Philippines Plant a Tree of Hope in Cebu
We had this tree planting along the HIGHWAY last August. And there seems to be more "tree-planting events" to come.
One of this was in Cebu.
The tree-planting activity was coordinated with some of the city's Barangay chairmen and was in support of President Gloria Macapagal-Arroyo's goal of transforming the country into a "Green Philippines".
*ONLY IN THE PHILIPPINES(BLUE)*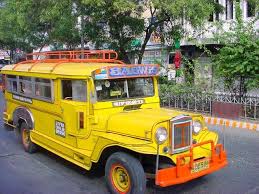 I know i just have to make a writeup about jeepney's
Yes, they are the KING OF THE ROAD in the Philippines. A jeepney ride is always an extraordinary experience and there are no two rides that is the same.
They are usually colorful, and are often accompanie with loud/soft or no music at all.
I usually "think" and "contemplate" while riding in one, whenever i go home. I usually pick "the-lone-jeepney-without-a-lot-of-passengers". Although, I sometimes enjoy the company of one or two people inside a jeepney, I prefer to be alone in one, haha but that rarely happens, usually jeepneys have a LOT of passengers. Carrying more than it's usual capacity. Sometimes, depending on your mood you wouldn't care less, other times.. well.. just forget the "annoying" feeling.
Just enjoy riding in one jeepney, that made us all UNIQUELY PINOY.
* *MADE IN THE PHILIPPINES(ORANGE)*
PINOY SAUCES = SAWSAWAN
Filipinos LOVES SAWSAWAN
Our pinoy seasonings, flavorful dipping sauces, is one of the most sought after ingredients. They are the different sauces that gives "flavor" and additional "taste" to anything you are eating. These "sawsawan" makes you want to eat more, even when you are just having "tuyo/dried fish".
We have the hot, salty, sweet sauces, or anything we can "create/invent" just to find the right "taste" we want. Even if the food is complete and "OK" to eat, we just have to find suka(vinegar), toyo(soy sauce), patis(fish sauce), calamansi, sarsa, sili(chili)... beside everything.
Pinoy's experiment with these various sauces, as they are fairly common place and known to enhance any dish.
--- Popular Sauces ---
*Suka't Sili - (Vinegar + Chili) - Everyone loves this. This is the "overused" sauce in every household. HOT!
*Toyo - (Soy Sauce) - aside from the "suka't sili", everyone <3's to have this on dinner tables. They would mix this with "kalamansi", "chili", or "suka", any of the three or it can also be the three altogether.
*Rufina Philippine Fish sauce(patis) - This one i saw in amazon.
Product Description
We are pleased to offer fish sauce from the Philippines. This has a unique flavor, slightly different than Thai fish sauce due to the blend of fish used to create the sauce. The fish sauce is a bit more salty and does not have a heavy odor.
Patis - is the by product of Bagoong. It is distinguished as the clear refined layer floating on the thicker bagoong.
*"Pinakurat" from Iligan - Best sawsawan in PINAS! Everyone loves this! It is hot.. more like suka't sili but better! Sizzling HOT! If you can be addicted to "suka't sili", i am sure, you would want Pinakurat more.
We have this in our table(supply from Iligan, when my parents went there, they bought a LOT). If you're lucky enough, you can find one displayed yet partly hidden, at the grocery section(if you are outside iligan). Shake well before using.
*KALAMANSI - a souring "agent". An important ingredient in innumerable dipping sawsawan(sauces). When used as a sawsawan, kalamansi is often mixed with patis (fish sauce) or soy sauce for that indescribable sour-salty taste.
*Bagoong - Not all would be pleased with it's odor because it is distinct and unique, but it's taste has a lot to offer. This is also a flavor enhancing agent. A dipping sauce for chicharon, whole fried fish, green and ripe mangoes, or hard boiled eggs.
*Onions/Tomatoes/Garlic/Chili = additional condiments to be added in vinegar, soy sauce.. or whatever you wish.
Labels: Current Events, Only in the Philippines, Splash of Green